Engage Account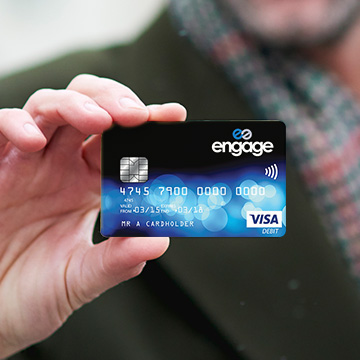 Engage Account & Visa debit card
Looking for a more convenient and rewarding account and debit card?
It's time to Engage with your local Credit Union!
No credit checks and no lengthy applications. The Engage account and Visa debit card is available exclusively to Credit Union and Community Bank members, regardless of your financial circumstances.
You can receive regular funds, such as wages or benefits, or a loan from your Credit Union, into your Engage account, giving you instant access to your money without the risks or hassle of carrying cash. As well as reaping the benefits offered by high-street bank accounts such as sending, spending and receiving money with your contactless Visa debit card, the Engage account is packed full of helpful features.
Never miss a bill payment with Engage Envelopes Budgeting Tool
Take the stress out of budgeting and paying household bills. With Engage Envelopes, you can ringfence the money you need for your bills, so you never have to worry about overspending.
Earn Cashback Rewards with Engage
With Engage you can earn up to 15% cashback at national retailers whenever you use your Engage debit card to make a purchase.
For details of participating Engage reward retailers, download the Engage app today or visit www.engageaccount.com/rewards
Manage your money in real-time, all the time, with the Engage app
The Engage app allows you to make the most of Engage and easily manage your money. The app makes it easy for you to:
Get free notifications when money goes in or out.
Set up a standing order.
View your statements.
Check your account number and sort-code.

Add the Engage Digital Card to Your Smartphone
As well as using your contactless debit card to make purchases, you can also use your smartphone to make contactless payments.
No Interest, No Overdraft, No Hidden Fees or Charges
Unlike big banks and other financial service providers, Engage works with Grampian Credit Union to offer accounts to everyone, no matter what your background or credit status. Charges apply to the account at low or no cost, including:
Monthly management fee
ATM withdrawal (UK)*: 75p
Bank transfer: FREE (up to £10,000)
First card fee: FREE
Replacement for lost/stolen/damaged card: £5
UK purchases: FREE
European & International purchases: £1.00 plus 2% of the transaction value.
Balance enquiries: FREE through your mobile app or by logging into your account online. 10p via ATM.
Notifications e.g. on when a payment comes into your account: FREE via your mobile app or via email, 10p via SMS alerts.
Please read the full fee information and terms & conditions here: T&Cs
Get your Engage Account today, have your Credit Union membership number ready and apply in minutes! – engagecard.wufoo.com/forms/engage-classic-account/
Helpful video YouTube
Need more help?
Head to engageaccount.com/support for all help related to your Engage Account.
You can also contact the Engage support team on 0333 202 3642 or email info@engageaccount.com.
With Engage your funds are always 100% safe.
The Engage Account and Visa debit card is available exclusively to members via our network of Credit Union and community banking partners in the UK. Engage is issued by Contis Financial Services Ltd who is authorised by the Financial Conduct Authority under the Electronic Money Regulations 2011 (Firm Reference Number: 900025) to issue e-money and is a member of Visa. Please note that electronic money products are not covered by the Financial Services Compensation Scheme. Instead, any funds received are held in a segregated account so that in the unlikely event that Contis Financial Services Ltd becomes insolvent, your funds are protected against claims made by creditors.
Should you require any further information on how your money is protected, please email info@engageaccount.com