Employer Partnership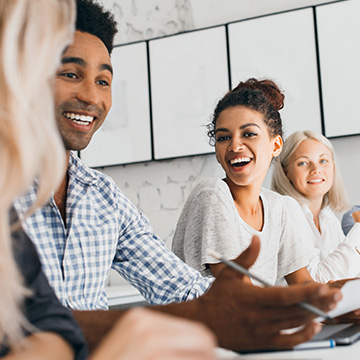 Improve the financial wellbeing of your team
Grampian Credit Union has worked with a number of employers to provide employees with a simple method to save money or pay loans directly from their salaries.
Offering Grampian Credit Union services to your employees brings a number of benefits.
Benefits to Employer
Grampian Credit Union promotes personal financial stability, so offering savings through Payroll deduction is a commitment to your employees. This benefit helps build employee loyalty, and employees financial, physical and in some cases mental wellbeing. It also reduces requests for salary advance and absence due to financial strains.
As a partner employer, you will benefit from the good publicity gained through participating in this initiative aimed at supporting employees and giving them easy access to savings and loans
Many employers in our area have become Grampian Credit Union partner employers, gaining the benefit of our expertise in savings and loans services. There is no charge for arranging Payroll deduction.
Supporting the local community as all profits go back to members in the form of an annual dividend.
Benefits to your Employees
Professional and friendly staff team in the Grampian Credit Union office.
Experience has shown that people tend to budget around the bottom-line figure on their monthly salary. By saving via Payroll deduction, healthy amounts of money can be saved very easily with minimum effort.
Members' savings are protected fully under the Financial Services Compensation Scheme.
Saving can start from £12 a month or £3.00 per week
Accounts and balances can be viewed on-line via PIN access to our secure website.
Members can open Junior Accounts for their children or grandchildren.
Members benefit from favourable rates on loans, with interest rates capped at 3% a month on the reducing balance.
Grampian Credit Union offers free life insurance on loans and savings, giving considerable reassurance.
Christmas Savings accounts are available for safe, secure saving for the festive period.
Any profit made by Grampian Credit Union (after deducting the running costs of the business) is returned to savers in the form of a dividend.
Lifetime membership means your employees will retain membership and access to Credit Union savings, loans and services for as long as they want.
Part of the Credit Union community
What does being a Partner Employer entail?
Marketing / Promotion
We provide you with information to distribute to your employees, including:
Messages to go in employees payslips regarding savings and loans
Articles for your company Newsletter and intranet with a link to our website
Messages to go in company emails and information
Posters advertising our savings and loans services
Information to include in your employees induction packs
We can also attend meetings with your staff to answer their questions first hand
Monthly and weekly payroll deductions
We have found the best way for people to save money regularly is directly from their salary.
All administration (including handling of enquiries, memberships and any subsequent amendment requests to Payroll saving amounts) is undertaken by Grampian Credit Union. All we ask of you is:
Arrange for a colleague from your HR or Payroll Department to be the credit union contact for Payroll deduction within your company
Deduct the specified amount from each employee's salary and forward the funds to us on a monthly or weekly basis via online banking / BACS as bulk payment
Provide a schedule of each month or week's Payroll deductions to accompany the remittance of funds, including notification of any employee who leaves the organisation.
Further Opportunities
An additional benefit of being an Employer partner is volunteering opportunities within Grampian Credit Union for your employees, thus broadening their skills and experience and serving the community
List of all Employer Partners - located in the Grampian area
Aberdeen City Council
Aberdeen Foyer
Aberdeen Performing Arts
Aberdeen Science Centre
Aberdeenshire Council
AECC (Aberdeen Exhibition & Conference Centre)
Alcohol and Drugs Action
AWT - Aberdeen Water Treatment
Befriend a Child
Bon Accord Care
CHAP Group
Cornerstone
Croft Nursery, Stonehaven
Fire Scotland (Grampian)
Glencraft
Grampian Housing Association
Grampian Joint Valuation and Assessor Board
GREC
Inspire
Middlefield Community Project
Moray Council
NHS Grampian
Police Scotland (Grampian)
Poppies Preschool, Laurencekirk
RGU (Robert Gordon University)
SCARF
Sport Aberdeen
The James Hutton Institute
University of Aberdeen
VSA
List of Payroll Partners (Active with Payroll deduction)
Aberdeen City Council
Aberdeen Foyer
Aberdeenshire Council
Alcohol and Drugs Action
Befriend a Child
Bon Accord Care
Cornerstone
Fire Scotland (Grampian)
Glencraft
Grampian Housing Association
Grampian Joint Valuers and Assessors
Inspire
Middlefield Community Project
Moray Council
NHS Grampian
Police Scotland (Grampian)
Poppies Preschool, Laurencekirk
RGU
SCARF
Sport Aberdeen
The James Hutton Institute
University of Aberdeen
VSA